The Kean's Head is a small but bustling real ale pub owned by Castle Rock (makers of the Award Winning Elsie Mo and delicious Screech Owl) situated in the Lace Market of Nottingham (and down the road from where I work….very handy)
Named after "Edmund Kean" a noted 19th century actor. Anyway enough of the history lesson.
The Kean's Head is a remarkably small pub and fills up quickly and with good reason. The interior is rustic and comfortable with sofas, comfy chairs, stools and regular tables.
But onto the good stuff. The beer selection is pretty darn good.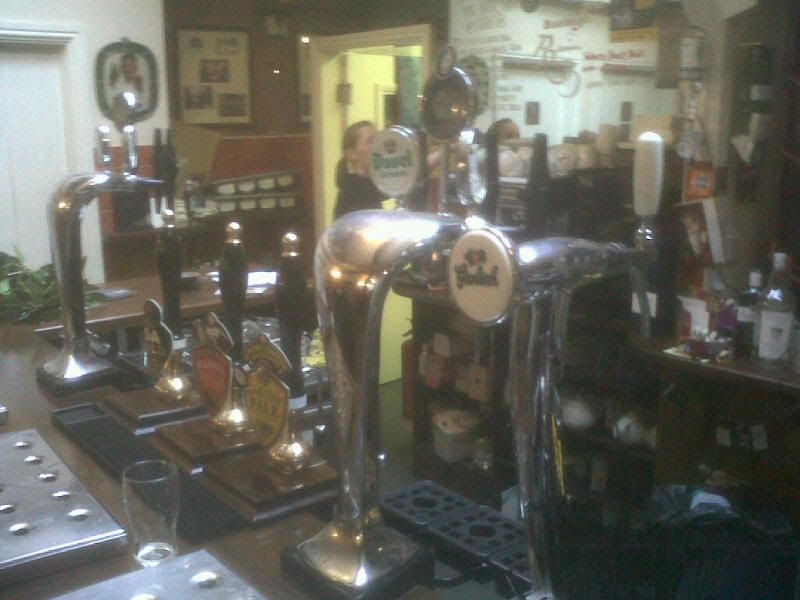 Usually stocking 2-3 Castle Rock beers and another 1 or 2 guests. The beer is kept (in my opinion) in top notch condition. Although the guests are little on the pricey side it runs the usual Castle Rock brewery 8 ball scheme where if you fill a card with stamps from different beers you get a free beer.
Aside from the real ale there is a great selection of other stuff for those who fancy a change such as Cherry and Raspberry Beers, Oyster Stout, Duvel and a few other continental beers.
One of the real eye poppers of the Kean's is their fridge full of bottles. It's literally one of the best selections of … well everything I've seen in a long time. You'll have to excuse the below photo being blurry, often taking these photos is a covert affair as it can raise some eyebrows.
But you get the jist, this fridge is full of stuff. Ranging from the most of the "Brewdog" range to "Coopers Sparkling Ale". There are plenty of the stronger trappist beers, fruit beers all the way to American microbrews rarely seen in the UK.
All in all this is great for a chuckle if the real ales currently on don't meet your fancy.
If spirits are your game then they have a pretty mind boggling array of spirits from around the world. Not for the faint hearted due to the cost but it's the perfect thing to top a night off. I myself am partial the Islay malts (the Japanese whiskey is worth a go too!)
The food at the Kean's Head is more expensive than your average pub fair but with good reason. It's delicious and well done English/Italian food. You'll find a large selection ever changing on the board as below, its definitely worth a try.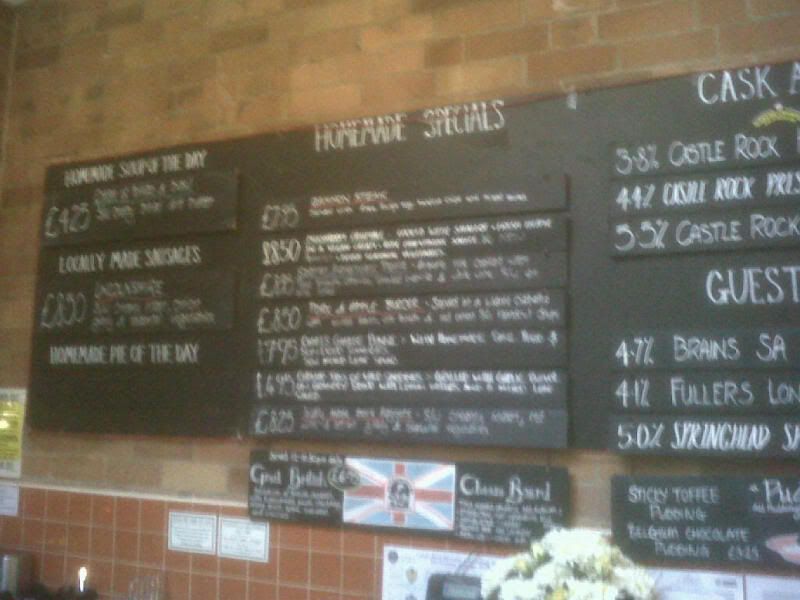 All in all the Kean's Head is an excellent pub with a great selection worthy of a place on any pub route.
To find the Kean's Head follow this google map