Over 100 beers? erm no actually, not really, and if there ever where it would require a myriad of *† and other cautionary disclaimer notes after the number 100… It's possible that 100 beers where on sort of, but not at once and some pubs where paying lip service compared to others. Don't get me wrong, it's still worth going as they have some great beers on, but the claims of 100 beers whilst true, in a nutshell it's not 'all at once'.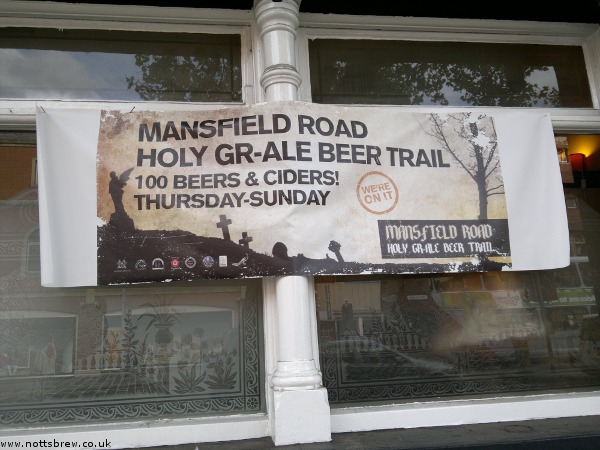 We started at the Peacock Inn, I like this pub and we are due to do a review but I was surprised to see no beer barrels, just the bar full up to its normal quota, that was 'it' thankfully Bath Ales – Summer Hare was superb and pulled them out from embarrasment, they had about 7 beers on including regulars, this was not the start hoped for.
Moving onto the Golden Fleece we where greeted with this board,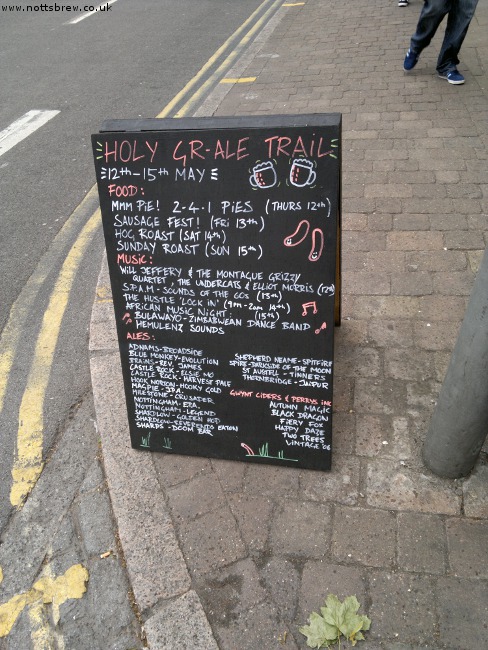 That's better I thought, but the reality was unfortunately again not all beers being available, inside was a smaller sized menu with ticks showing which where currently on, about a third where available to buy at the time. Thornbridge Jaipur was a great pint but costly at £3.20, but hey at least thats 5p cheaper than in the center of London, because Mansfield Road and the center of London are clearly in a similar business position…
Ok so fair enough moving on to the Nags Head, they do a quality beer festival out in the great patio area they have, the board this time didn't promise so much but at least all beers where on and available, so fair play to the Nags Head.
Next off to the Lincolnshire Poacher, which roundly trounced the previous pubs with its usual great bar selection, and just under 20 on gravity available.
Many will think after my previous glowing reports of the Lincolnshire Poacher that I have some kind of agenda, well I don't! I think normally it's over priced, but tonight again it showed that it was the best of the bunch!
We went at this point to next door,  it seems Fade and the hard to find cafe just plain pulled out, we went there to be told abruptly, and I quote,
we're not stamping cards
They had 2 beers on, and that was your lot.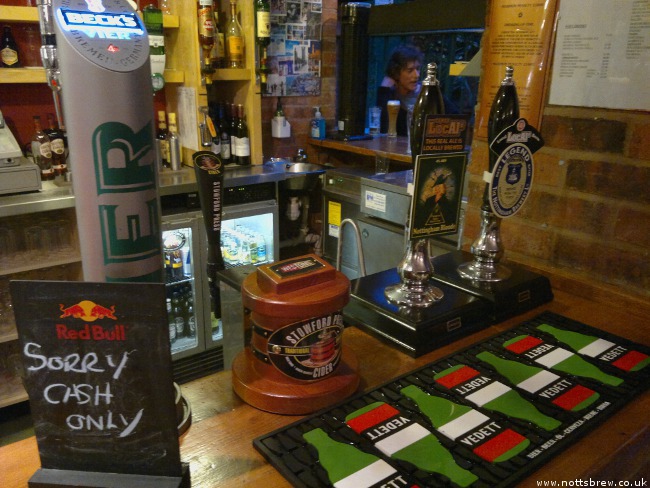 This was a festival/crawl that promised a huge amount and didn't quite live up to expectation, claims of 100+ beers is deceptive given the showing we saw. We didn't try the Rose of England or Forest Tavern but given the experience from all the other pubs, I think a mixed reaction is the best we can give it, here's hoping that if this event is back on in 2012 some of the pubs that gave a poor showing pull their weight, as they put the brakes on what could have been a fantastic night out.