Another great bar in NYC which is off the beaten track so to say which myself and Mrs.Hoppkins  set out to find is D.B.A.
What D.B.A stands for is a long standing mystery it seems, or perhaps the landlord just winding everyone up. But common theories are:
Don't Bother Asking
Drink Better Ale
As much as i would like to think its the latter I'm sure the landlord is cackling behind the bar the whole time at the hilarity of the gag….possibly….who knows….anyway
First off if your looking to get to this bar prepare for some confusion unless you're actually from New York. Me and my wife came out the subway and immediately set off in the wrong direction. After we got our bearings and found a good landmark to work from (Katz Delicatessen from "When Harry Met Sally") we found the place.
This small and dark looking bar holds possibly the largest beer selection I have seen in any pub in any country. It is phenomenal…
As you can see from the below pic it doesn't end at beer…they stock a gob smacking selection of Whiskey, Tequila, Vodka…you name it.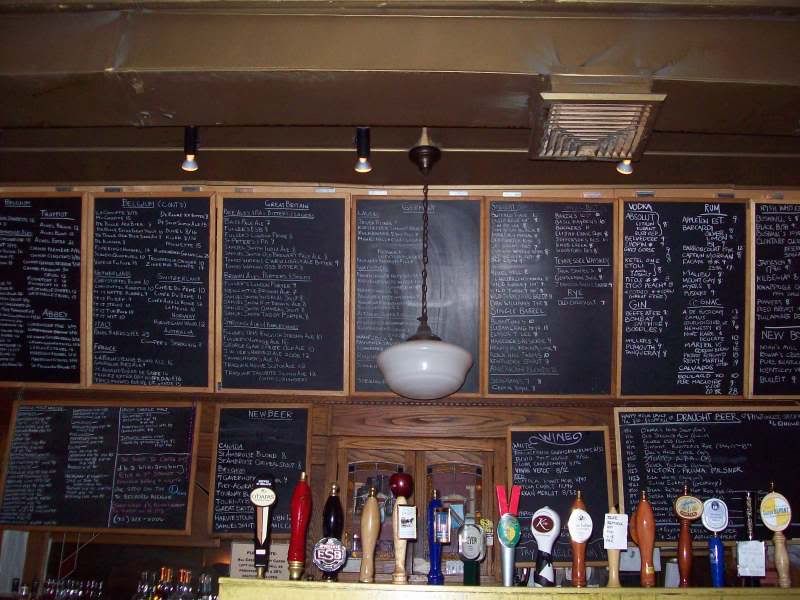 I dived in and had half of an excellent Japanese Beer (which tasted distinctly Belgian) which was matured in sake kegs. It was veeeeeery heavy but absolutely delicious…and cold…which in the heat it was that day was a pleasant thing i can tell you (About 32 degrees Celsius plus and very humid)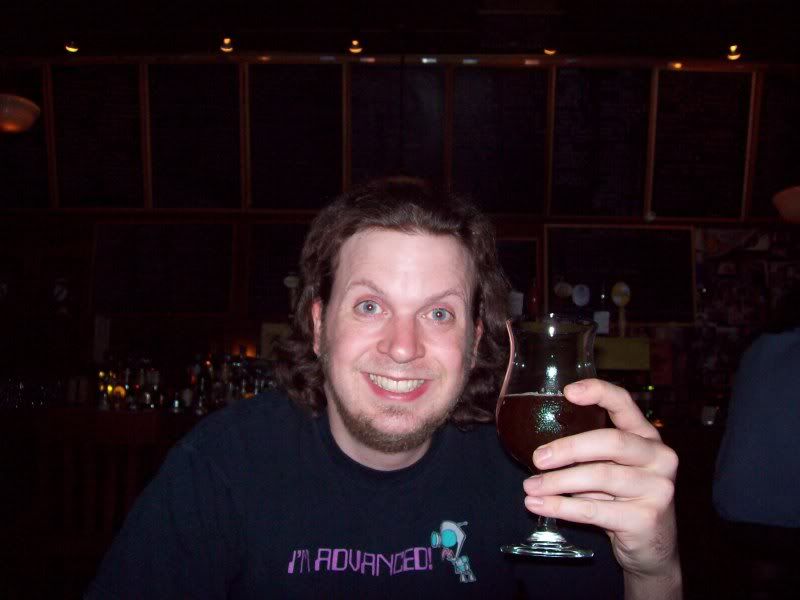 The bar is quite small, dark and cramped but since you can drink at the bar and there are numerous small tables and a nice beer garden its not an issue. For its size the bar is stocked like its ready for war…on your liver.
I would of got a picture but I'm not sure people sitting in a veeeery dark room would of appreciated a camera flash going off in their eyes.
If you drink at the bar you get a complimentary cheese platter at certain times (Check website@ DBA Website for details of times of any offers)
Despite the majority of the beers on offer being bottled there is a pump selection seconded only by the Bree Louise in Euston, London (UK)
Not even Wetherspoons has a real ale selection this wide and this place is 1/10th of the size of an average spoons. The beer was kept beautifully and although the price is high, its the price you pay for excellent real ale (more importantly in my opinion the price you pay for great ale you have never seen)
Another redeeming feature of this great bar is they have a sit down pac man machine (Dr Lovesale will appreciate this I'm sure being a fervent pac man lover)
In short this is a bar not to be missed if you swing by New York which has a great selection, great atmosphere with friendly staff.
Easiest way to get to DBA is:
Subway
# F Train – The Second Avenue stop is closest to d.b.a.
# 6 Train – Take the #6 to Bleeker Street and walk to First Avenue.
# R Train – d.b.a. is equally close to either the Prince Street or 8th Street stops.
CHEERS!